Scholarships for international students 
Koç University evaluates automatically all new undergraduate international candidates and international undergraduate transfer candidates for full (100%) or partial (50%)tuition-only scholarships on the basis of academic merit (except for Medicine). Our School of Medicine awards only partial scholarships of 50% or 25% to a very limited number of admitted candidates every year on the basis of academic merit. Full scholarships are not available for Medicine at Koç University.
Scholarship merit:
Merit scholarships are awarded on the consideration of all academic and extra-curricular documents and information that demonstrate outstanding performance and potential. There are no specific test scores or GPAs that automatically award a full or partial merit scholarship. There is no separate form or application period for merit scholarships. Admitted candidates receive information in their offer letter as to whether they have been awarded a scholarship or not. There can be no reconsideration of scholarship decisions so please refrain from contacting the Admissions Committee or other Koç University units to request a re-evaluation of your admission or scholarship offer decision.
What do our scholarships cover?
Undergraduate international or international transfer scholarships cover full or partial tuition fees for each academic year and are awarded for the duration of the undergraduate program (4 years or 6 years for Medicine). There is no specific academic requirement to maintain the scholarship . If you are awarded a Koç University Scholarship you are not eligible to apply to any other Koç University-funded financial aid or scholarships during your studies (eg. dormitory, books, living expenses, or further tuition scholarships). You should ensure that, before accepting a partial Koç University Offer of Admission and Scholarship Offer, you will be able to pay your remaining tuition each semester and cover your living expenses in full as an international student.
Country specific scholarships
:
We strongly encourage all international undergraduate applicants to also submit an application to the Turkish Scholarships program (except for Medicine and Nursing) as these are awarded for 100% tuition waivers and include dormitory accommodation, monthly stipend, flights, and other benefits that are not available from Koç University's own merit-based scholarships for international students. Koç University currently has country-specific undergraduate scholarships for citizens of the following countries:
Offered Programs:
BA International Relations
BA Economics
BA Business Administration
Chemical and Biological Engineering
Computer Engineering
Electrical and Electronics Engineering
Industrial Engineering
Mechanical Engineering
Chemistry
Physics
Mathematics
Molecular Biology and Genetics
Archaeology and History of Art
Comparative Literature
History
Psychology
Philosophy
Sociology
Media and Visual Arts
Law
Medicine
Nursing
How to apply the scholarship:
1- Prepare all require documents as:
An international standard university admission exam score or an international diploma grade
You should satisfy and exceed the minimum acceptable score or grade from only ONE of the exams or diplomas listed below.
Acceptable exam or diploma
All other programs in other Colleges – MINIMUM SCORE or GRADE
Law/Medicine – MINIMUM SCORE OR GRADE
SAT I (New) – General Non-Essay (Koç University's Code is 1931).You should send your electronic scores to Koç University in the list of selected universities.
Engineering: 1200 Sciences: 1180 Social sciences and Humanities: 1180 Administrative Sciences and Economics: 1180 Nursing: 1180 For all colleges the minimum scores in each section are: Maths: 620 Evidence-based Reading and Writing: 560
Medicine: 1450 out of 1600 Law: 1410 out of 1600 For Medicine and Law Schools no minimum scores are specified for each section
SAT II Subject Tests (Koç University's Code is 1931)
Minimum number of subject tests: 2 Required subjects and minimum scores:- Mathematics Level 1 or Level 2: 620 out of 800 – Relevant subject test to the program being applied for: 650 out of 800
Medicine: 2 Subject Tests – Mathematics Level 1 or Level 2: 650 out of 800 – Biology or Chemistry: 700 out of 800 Law: 2 Subject Tests- Mathematics Level 1 or Level 2: 620 out of 800 – Relevant subject to Law (eg World History): 700 out of 800
ACT (Koç University College Code is 3017)
23 out of 36
31 out of 36
MCAT
Not applicable
Medicine: 505
International Baccalaureate (IB) Diploma
28 out of 45
40 out of 45
GCE (General Certificate of Education)
2 A-Levels (A2) on program-relevant subjects Minimum grades: A*, A, or B
Medicine: 3 A-Levels (A2) on program relevant subjects (Physics, Chemistry, Biology, Maths) with A* or A grades Law: 3 A-Levels (A2) on program relevant subjects with A* or A grades Note: This includes: Cambridge International GCSEs, Pearson EdExcel International Advanced Level (IAL)
ADVANCED PLACEMENT (AP) Exams
Social Sciences and Humanities, Administrative Sciences and Economics, Nursing, Law Minimum 3 AP Exams: AP Calculus AB or BC with a minimum score of 3 out of 5 2 other relevant AP Exams with a minimum score of 3 out of 5
Medicine, Engineering, Sciences Minimum 3 AP Exams: AP Calculus AB or BC with a minimum score of 4 out of 5 2 other relevant AP Exams (Biology, Chemistry) with a minimum score of 3 out of 5
French Baccalaureate diploma
12 out of 20
17 out of 20
ABITUR (Germany) exam
1-4 grade (1 and 4 included)
1,2 Medicine 1,5 Law
MATURA (Austria) exam
Diploma grade: 1 or 2
1,2 Medicine 1,5 Law
MATURA (Switzerland) exam
Diploma grade: 4.50 – 6.00
Diploma grade: 5.50 – 6.00
EB (European Baccalaureate)
Diploma grade: 80% or 8-9 in relevant subjects (one of which should be Mathematics)
Medicine: 90% or 8-9 in relevant subjects (one of which should be Mathematics) Law: 90% or 8-9 in relevant subjects (one of which should be History/Philosophy)
Please refer to the Acceptable Exam And Diplomas And Minimum Eligibility Scores And Grades section for details. Exam scores older than 2 years at the time of application will not be accepted. There is no time limitation on diploma grades. Students who cannot provide any of the exams listed above (for a valid reason – such as an exam test center not being available in their country) may also be evaluated with their high school diploma grades and other credentials. However, please note that your admission chances will be low if you apply without one of the tests or diploma grades listed above. attached below
Average test scores of previously admitted students to Koç University
You can see statistics about the average test scores of previously enrolled international students to Koç University's undergraduate programs download from here
Official High School Diploma (if available at the time of submission)
If available, a copy of your National High School Diploma certified by the issuing institution or notary public offices as genuine copies of the original and translated to English or Turkish IF the original is not in English or Turkish. Please refer to certifying copies of your original documents https://registrar.ku.edu.tr/en/admission/international-students/#certifying_copies section for details. ICGSE: AS levels are not considered a high school completion certificate by the Turkish Higher Education authorities so you can only apply for admission with A-Levels.
Official high school transcripts (or predicted high school GPA)
High school transcripts or predicted results from every attended grade (9th, 10th, 11th, and if available 12th grades). You should upload a copy of official transcripts of your high school courses and grades showing your final Grade Point Average (GPA) or equivalent grading system. If you submit an application whilst you are still enrolled in your last year of high school you can submit an official document from your school stating your predicted grades.
The motivation letter should be the place where your unique experience, interests, and motivations can "shine" in front of our Admissions Committee. You should use 1-2 pages to explain why you would like to study your program of choice, talk about the academic and extra-curricular activities that have helped you make your decision to study a specific major and that would make you ready for university life, and why specifically do you think Koç University's program is a good fit for your character, goals, and style of learning. Always remember: plagiarism will mean an automatic rejection, make sure there are no spelling or grammar mistakes, and before uploading this document ask yourself: could this have been written by anyone else other than me?. If the answer is yes, then go back and revise. Below we have put together some sample motivation letters to guide you in the process.
-Samples of motivation letter
Non-refundable application fee
Koç University charges a 250 Turkish Lira (TL) non-refundable application fee for undergraduate international applications submitted for the Fall 2022 admission intake. You will find the instructions on how to pay the application fee on the application form using a credit card. Please make sure the credit card used to pay for the application fee is authorized or enables you to do online purchases and purchases outside of your country if you are paying with a non-Turkish bank credit card. You can pay for the application fee with a family member's or other authorized person's credit card but they will need to provide you with the code they will receive as an SMS message on the mobile phone registered with the credit card. There are no application fee waivers for undergraduate international applications for the Fall 2022 admission period. If you do not pay the application fee your application will not be evaluated.
all the above mention requirement you can get on the below link
https://international.ku.edu.tr/undergraduate-programs/application-requirements/
2- Press on the link https://international.ku.edu.tr/undergraduate-programs/how-to-apply/ then select "how to apply" on the right side on the page, as indicated in below Figure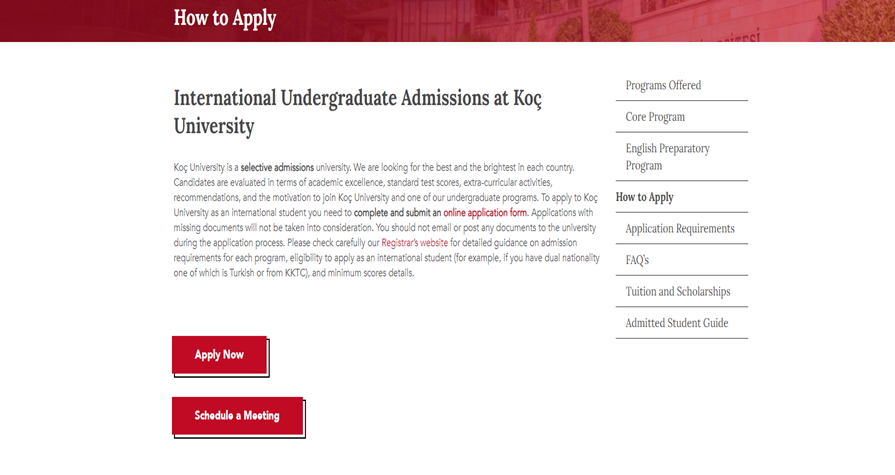 3- Complete and submit an online application form . by clicking on the following link https://apply.ku.edu.tr/

4- Confirm your citizenship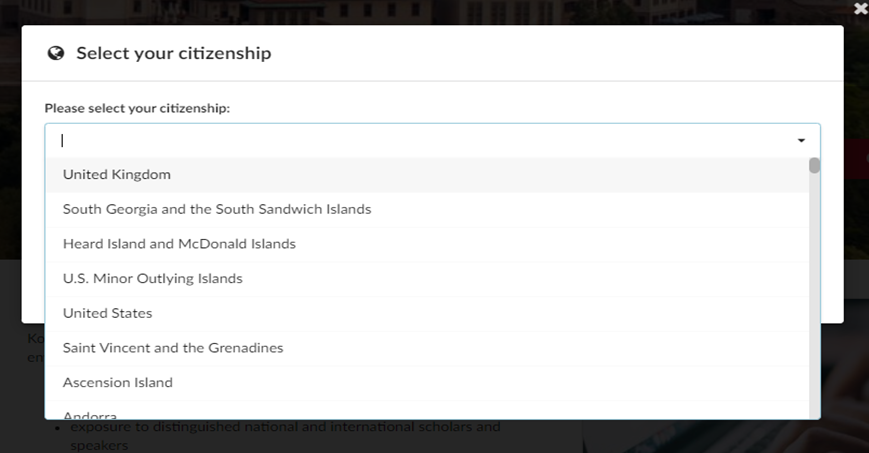 5- Register https://id.dreamapply.com/login?client=1108&legacy=1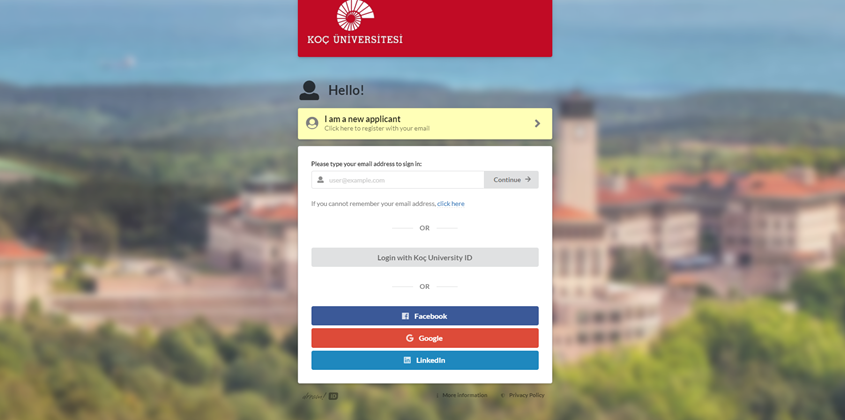 6- get confirmation into your E-mail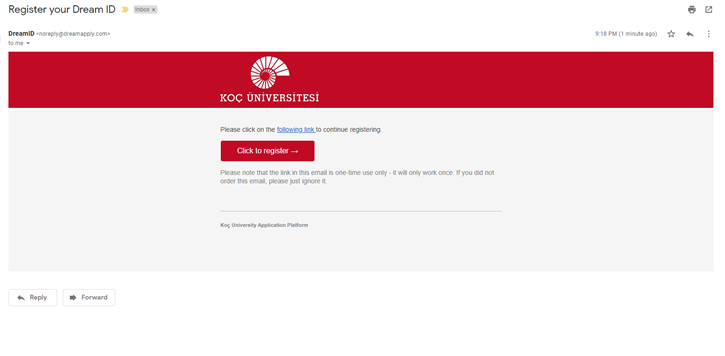 7- Follow the link, then full the fields and continue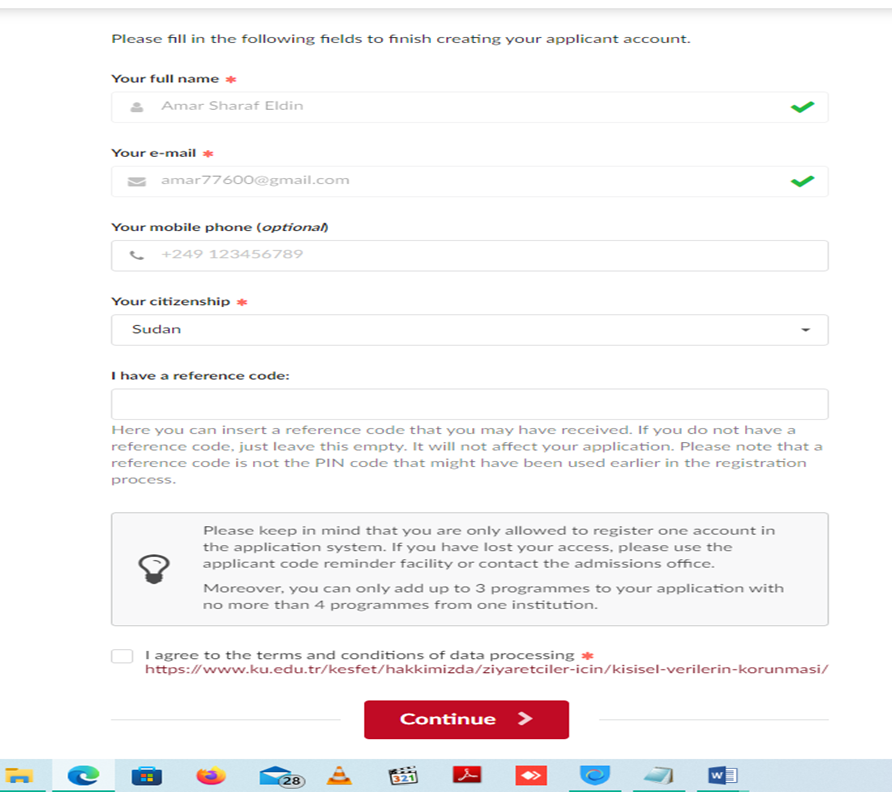 7- To Complete Your Koç University Undergraduate Application Tutorial for International Applicants press on https://apply.ku.edu.tr/en_GB/news/new/26-complete-your-ko-university-undergraduate-application-tutorial
8- Just press on Apply: by clicking on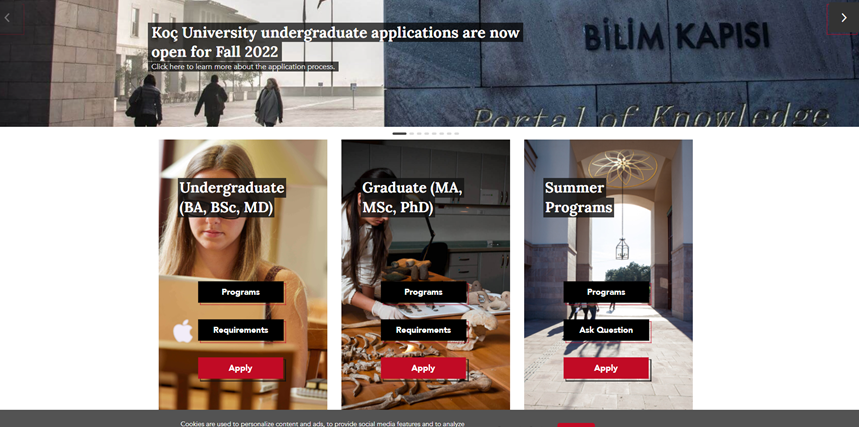 10- type and search your programme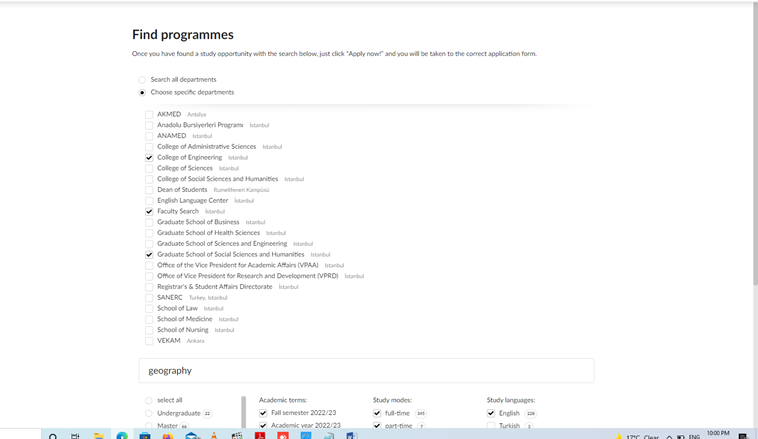 11- Apply now for the programme that you prefer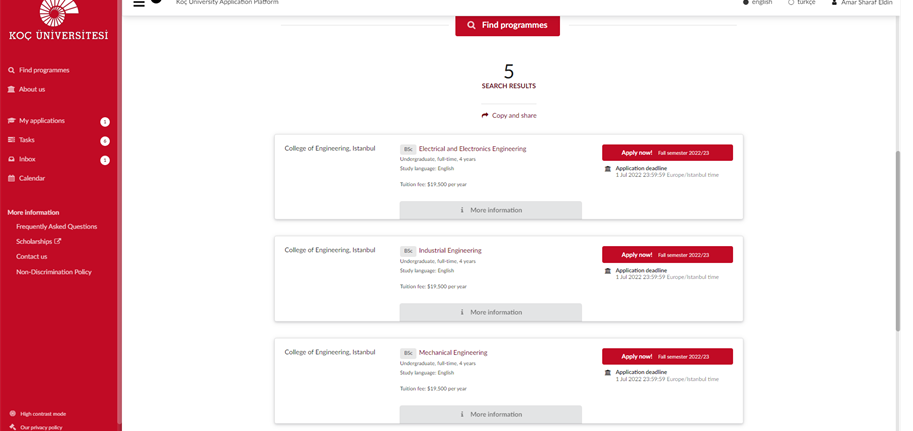 12- For Example Mechanical Engineering
Just fill the fields one by one and save the submitted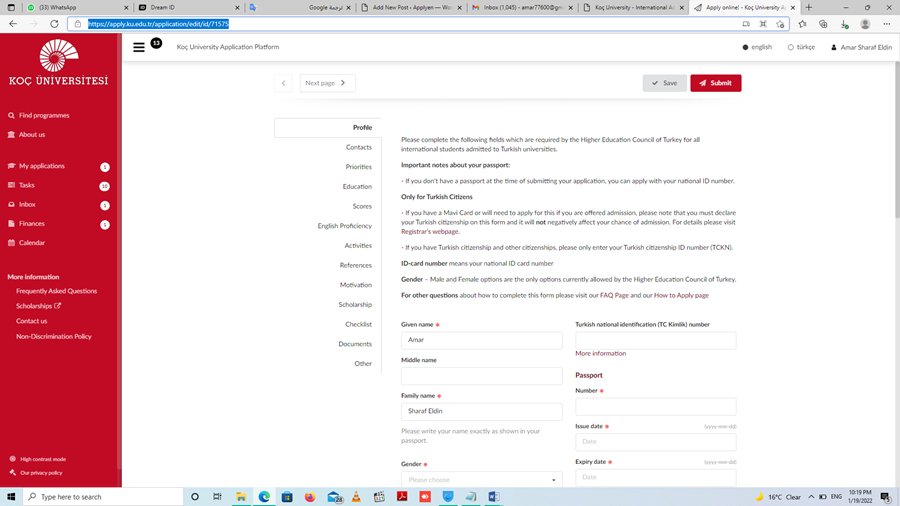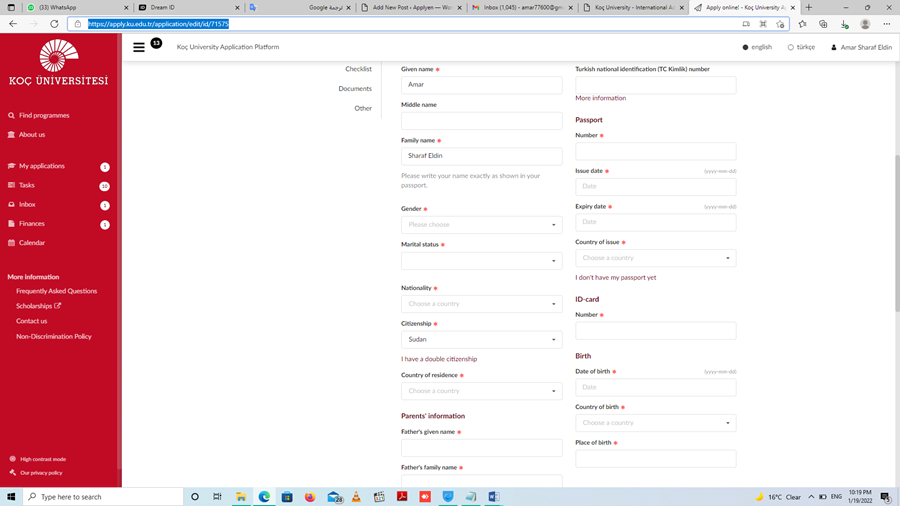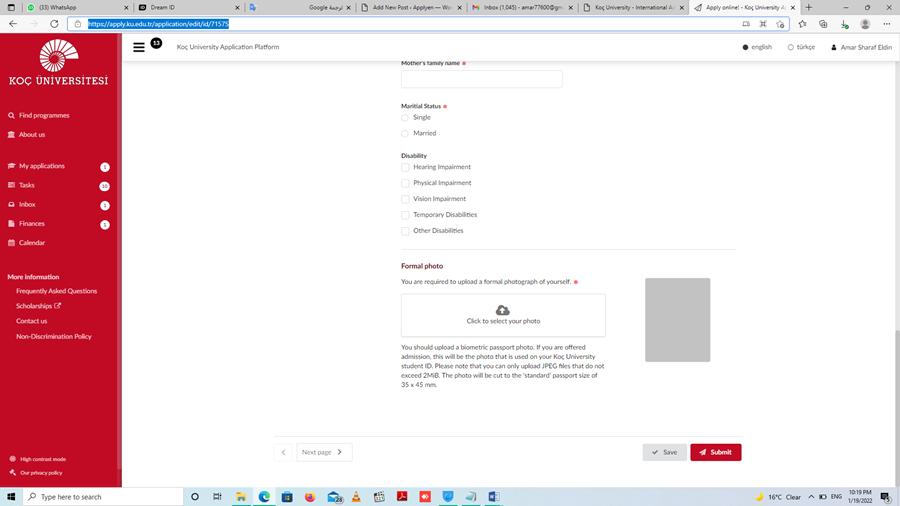 13- lastly: submission confirmation E-mail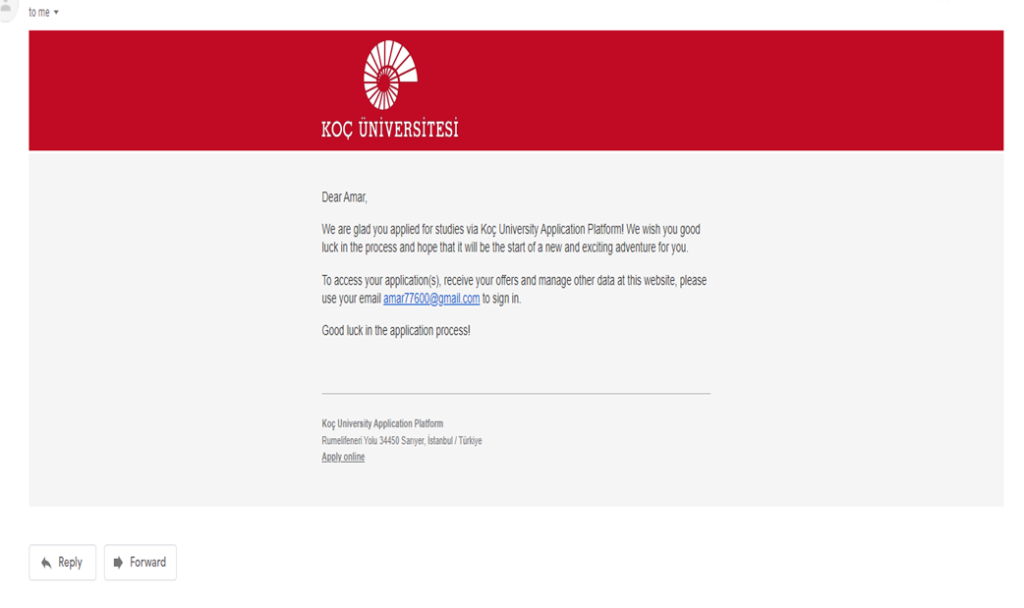 Good Luck …